Good Eatin': Olives
Some nights, the six olives in the martinis are all there is to eat, so it's probably worthwhile to know all there is to know. Plus, you may want to grow your own. Ari Weinzweig's
Guide to Good Olives
from PBS'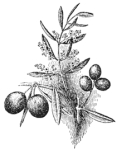 Splendid Table has descriptions of varieties of olives listed by country of origin (Italy, France, Spain, Greece, Israel, North Africa, Morocco, and the U.S.).
For the Love of Olives
also lays out various varieties (such as kalamata, manzanilla, and sevillano), curing methods, classification (green, pink, black, wrinkled black), and fun facts.
Good Enough To Eat: Olives Drab? Grow or Cure Your Own
(the title is longer than the article) has detailed info on curing olives kalamata-style, using a salt solution, vinegar, and herbs. The website for
Museo dell' Olivo
(located in Imperia, Italy) has a history of the olive tree and information about olive cultivation and oil production, plus a virtual tour of the museum, a brief discussion of the role of olive oil in the Mediterranean diet, and images of olive pits, oil lamps, tree, harvesting, and olive oil production equipment. Finally, closer top home,
Olive
is a fact sheet on the fruit, focusing on varieties grown commercially in California. ("Virtually all U.S. commercial olive production is concentrated in California's Central Valley, with a small pocket of olive acreage outside Phoenix"), and covering growth, pruning, harvest, and related topics.