Tools: Passwords Management
Thanks to computerized warfare, you can now get enterprise grade password management endorsed and tested by the U.S. military. Mandylion Research Labs developed this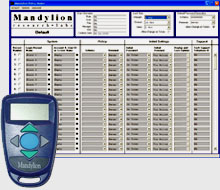 gadget under a Department of Defense research program seeking practical solutions to a uniquely modern battlefield problem: password overload. And the winner is?: A simple, relatively inexpensive ($49.95 list), keychain-sized device that aids in the generation and secure management of any password-based login record:
-> Manages Up to 50 Login Records Simultaneously
-> Schedules new passwords on a regular basis
-> Generates Cryptographically Strong Passwords
-> Complies with All DoD, Govt. & Industry Password Security Policies
-> Manages Root and Group Passwords
-> Approved, Trusted Technology; Recoverable
-> Enterprise Grade
-> Pre-Configurable for User
-> Flexible Design
-> Multi-Layer, Defense-in-Depth Approach
Sarbanes-Oxley Compliance? Gramm Leach Bliley? HIPAA? FACTA? FISMA? Regulations now mandate reporting on controls that safeguard your enterprise's computing systems. Merely having a policy in place is no longer adequate. Management and Governmental entities must now certify that these policies and controls are also operating effectively. Your dog's d.o.b. will no longer suffice.
<
http://www.mandylionlabs.com/
>